Welcome to another addition of Lego Creation Thursday.  I guess I'll call this edition the sickie edition. Both boys have been sick all week with colds and lots of coughing.  I was not sure we would even get any Legos created this week but they managed to come up with something!
Before I show the boys' creations I did get that blog button made! Ta-da! Let me just say I am not good at making blog buttons but I finally figured it out! It has been a long time since I made my other blog button and I had forgotten how! A big thanks to Debbie for sending me those very neat Lego clip art links!  If you want the button you can grab it over on my sidebar.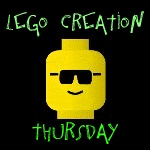 Ok on to this week's creations! Kaden is up first with his Statue of Liberty.
This Statue of Liberty is very unique in that she is bald an her head seems to be much smaller than her body! But I think she is cute!
Next we have Justin's creation. Two planets, Venus and earth. It is very difficult to make round objects with Legos. I think Justin did a pretty good job though. In the past he has made the entire solar system out of Legos but was not really up to it this week.
Earth and Venus
I'm really excited. Last week we had a some new families join us. If you cannot participate each Thursday just stop by when you can! We love seeing all of your kids creations! Whether it is once a week or once a month!
What Lego creations have your kids come up with this week? Please join us! We would love to see their creations! You can link up below using Mr. Linky! I would appreciate it if you would link this post in your post or share our Lego Creation Thursday button in your post. Be sure to join us each week!