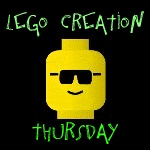 Welcome to this week's edition of Lego Creation Thursday! You all had some great creations last week. I was unable to leave comments on a couple of your blogs. It seems that blogger does not like me! So if I did not comment please know that I did visit and loved all of your kiddos Lego creations!
This week Justin is sharing his mini x-wing fighter and his mini tie fighter. I think these small sets are so cute!
Kaden decided to share his knights and catapult.
I have to say that while I am a Star Wars fan. I am a huge fan of all things medieval. I think these knights are very cool!
Uh-Oh it looks like two of Darth Vader's minions are after Han Sol.
It is not looking good for Mr. Sol.
But wait…..who is that in the distance? Could it be?
It is! The Knights with their catapult and they have brought reinforcements!
They have brought down the storm troopers and saved Han Solo! YAY!
Those knights sure know how to save the day!
What Lego creations have your kid's come up with this week? Please join us! We would love to see their creations! You can link up below using Mr. Linky! I would appreciate it if you would link this post in your post or share our Lego Creation Thursday button in your post. Be sure to join us each week!