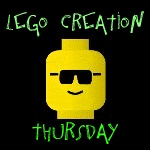 Welcome to this weeks edition of Lego Creation Thursday! We're glad you have stopped by!
This week is a quick post as we have a lot going on at our house today!
Justin is sharing yet another building from the Lego Architecture Series.
Kaden is sharing what he calls a castle! I have no idea where this castle is from or what time period it is in but he assures me it is a castle!
What Lego creations have your kid's come up with this week? Please join us! We would love to see their creations! You can link up below using Mr. Linky! I would appreciate it if you would link this post in your post or share our Lego Creation Thursday button in your post. Be sure to join us each week!