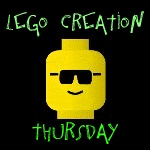 Good Morning and welcome to this week's edition of Lego Creation Thursday! We are so glad you stopped by for a visit!
This week Kaden is sharing his water building! He made this last night! ! Can you see those white tubes at the bottom right. That is where the water comes in. It flows through the tube and is stored in large tanks inside of the building and then out to homes in the town.
This week Justin is sharing….another building! Not another architecture building. Rather one from his imagination!
He calls this Justin's building of the future! I'm not sure if this is a building he will live in or perhaps it will be a famous building and be called The Justin you know the way Donald Trump is called The Donald? You never know, right?
What Lego creations have your kid's come up with this week? Please join us! We would love to see their creations! You can link up below using Mr. Linky! I would appreciate it if you would link this post in your post or share our Lego Creation Thursday button in your post. Be sure to join us each week!